COLLECTORS, AGENTS, GALLERIES AND FELLOW ARTISTS PLEASE ADVISE ME OF ANY ARTWORKS BY MYSELF BEING OFFERED FOR SALE, TRADED OR DONATED AS RECENTLY THE MAJOR PORTION OF MY LIFETIMES ARTWORK WAS TAKEN FROM ME AT A TIME THAT I WAS PHYSICALLY AND MENTALLY INCAPACITATED DUE TO THE EFFECTS OF A SERIES OF SPINAL SURGERIES. THESE SURGERIES HAVING ELIMINATED MOST OF MY MEMORY, MY ABILITY TO WALK, SPEAK, COUNT, READ, WRITE AND PROPERLY CONDUCT THE AFFAIRS OF MY LIFE and to paint. FROM WHICH I AM ONLY NOW RECOVERING SUFFICIENTLY AFTER 5 YEARS TO ONCE AGAIN LIVE LIFE IN A REASONABLE FASHION. AND INDEED POSSIBLY TO RESUME PAINTING AFTER THE ABOVE DESCRIBED ACTIONS WERE PERPETRATED UPON ME. DURING THIS PERIOD OF INCAPACITATION MY LIFETIMES ART WAS TAKEN FROM ME AND I WISH TO TRACK ITS DISPOSITION AND RETURN THE FAVOUR OF THIS MORALLY REPREHENSIBLE ACT AND BEHAVIOR TO ITS PERPETRATORS, THEIR AGENTS AND THEIR SUPPORTERS IN THE ARTS SALE. PLEASE AID ME IN THIS PROCESS BY ADVISING ME PROMPTLY OF SALES, TRADES, DONATIONS OF MY ART NOT DIRECTLY CONDONED OR CONDUCTED BY MYSELF PERSONALLY. PLEASE AT THE VERY LEAST DO NOT SUPPORT THE BEHAVIOR BY PURCHASING OR DEALING IN THE ART. RICHARD DIXON
Richard's web site is currently being redesigned and upgraded. Information in the remainder of the site is currently outdated. Please check back for new art work and information.
Richard Dixon is a professional fine artist of over 40 years experience having exhibited globally for the past 35 years.He has owned galleries and art publishing enterprises operating on a worldwide scale.
In the fall of 2005, he began concentrating upon developing as a plein air artist of landscapes, having taken painting expeditions to Northern California, the Superstition Mountains of Arizona, and along the Oregon coast in an effort to experience as many varying forms of light and landscape as possible.
For the last 30 years he has created paintings that are historical dramas of life in Western Canada during the eras of the fur trade and native occupation of the land, many of which hang in major corporate, government, museum and private collections worldwide. (see collection list)
His series "The Canadian Spirit Series" was the official gift presentation at the 1988 Calgary Winter Olympics.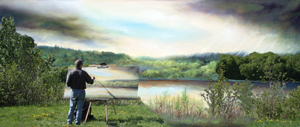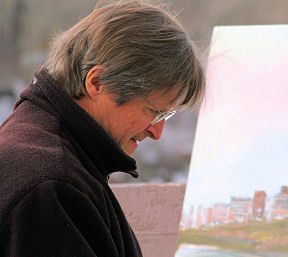 Due to the practice of commercial theft of artist's images from the internet, this site is intentionally restricted to presenting reduced resolution images,a basic description of the artist's works, ongoing projects and biographical data. For more specific information on the artist's career, current international projects and dealership enquiries please contact the artist directly by e-mailing dixontrades@hotmail.com Purchasers of art from galleries or agents should also verify the authenticity of the works with the artist, a service which is free and will protect them from work sold as Richard Dixon's but are not, such works having recently surfaced in Arizona, New Mexico and North Carolina.